Epilepsy, an often misunderstood condition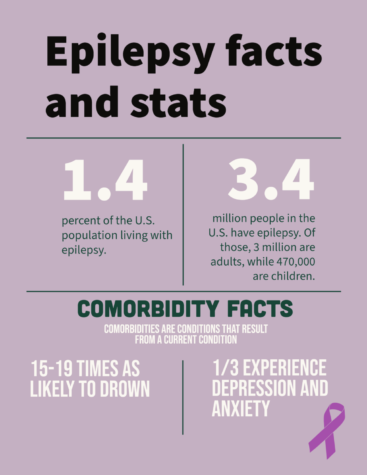 Epilepsy is one of the most misunderstood neurological diseases and the fourth most common. November is National Epilepsy Awareness Month and researchers have provided information about prevention, treatment, research and resources to fight epilepsy. 
Unfortunately, epilepsy has a long history of misunderstanding . Epileptic seizures are often brought about due to a high fever, low blood sugar or head trauma. However, nationaltoday.com states that seizures can be random with two-thirds of people who suffer from epilepsy having no specific cause for their condition. 
This feeling of unpredictability is familiar to junior Kyadence Bryant who's been suffering from epilepsy since she was 4 years old.
"You can't really tell if you're having a seizure because it's like you're dreaming," said Bryant. "It wasn't exactly real but I knew I wasn't dreaming and I knew what was happening." 
As a neurological condition, epilepsy triggers seizures within the brain and doctors believe that a brain causes a short interruption to messages traveling back and forth. This interruption causes epileptic seizures.
In addition, seizures don't affect everyone the same way. Symptoms range from rapidly blinking eyes to someone going into a state where they stare blankly for a few minutes. Some people suffer from a short interval of confusion while serious seizures involve falling to the ground with strong muscle contractions and disorientation. 
The first people to recognize these symptoms are parents and many are concerned with how to cope with epilepsy's unpredictability. Parents like part-time nurse Christine Zimmerman have had to deal with their children's episodes and the stigmatism associated with the condition. 
"There is always a worry because there's no schedule like other conditions," said Zimmerman. "When you label people you don't say they're epileptic, you say they're a person with epilepsy." 
There are many ways one can observe national epilepsy awareness month. One of the more well-known ways communities raise funds is by registering for an epilepsy walk. The Danny Did foundation has organized a marathon in Chicago this winter and they have been working with engineers to produce preventive technology. 
BHS school nurse Donna Carlson is participating in the marathon this year and wants students to be educated about how to help someone having a seizure. 
"The first thing we must do is stay with the person until they are awake and alert after the seizure and keep them safe," said Carlson. "The nurse's office has seizure first aid papers from the epileptic foundation to help those in need." 
Another way one can raise awareness is by submitting the name of a loved one that has passed away due to epileptic causes to the National Epileptic Foundation. Ask friends, family, and anyone else who has been affected by epilepsy to recognize the memory of someone else. 
Others can also wear purple to show their support. To help individuals relax the brain and nervous system after an epileptic attack, a lavender scent called linalool can provide that alleviating effect. That is why lavender (or purple) is the official color of epilepsy. To support epilepsy awareness month people can shine a purple light out their window each evening and support  those with this misunderstood disorder.