Bettendorf reveals nominees for athlete of the year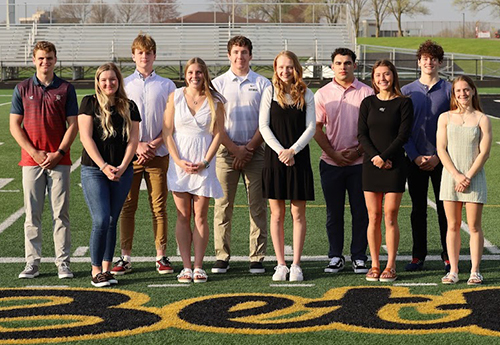 Bettendorf High School nominates five females and five males every year for the Athlete of the Year banquet. Each are chosen at the all-sports banquet. The nominees for the boys this year are Diego Cortez, Tristan Wakefield, Alex Stone, Bradley Hill, and Carter Anderson. The nominees for the girls are Hannah Beintima, Shannyn Vogler, Avery Horner, Anastasia Drexler, and Isabelle Appel. 
There are a lot of different pieces that go into being nominated. When choosing athletes, one thing that is evaluated is the number of sports they have been in or are currently in. Anastasia Drexler has been involved in six sports throughout her high school career, solidifying her nomination for athlete of the year.
 "Participating in many sports has helped me get better at all of them while creating many different friendships," Drexler said. 
Another aspect of choosing the athletes is their varsity letters (how many times they were on varsity). Bradley Hill received six varsity letters, four from wrestling and two from football. Hannah Beintima received eight varsity letters: four from track and four from cross country. These varsity letters helped these athletes get noticed for this award.
"I feel like being on varsity over the years has helped me to grow as a person as well as an athlete. It has pushed me to want to perform better, allowed me to meet some of my best friends, and overall I am so grateful for all the opportunities being a part of varsity teams have opened for me," Beintima said.  
Shannyn Vogler was also nominated, due to her success in her golfing career. Last year Vogler won a state championship as an individual. Alex Stone and Carter Anderson have also been successful and shown great character in their sport: swimming. 
Diego Cortez, Tristan Wakefield and Isabelle Appel have shown leadership in their sports as captains along with many of the other nominees. 
There are so many traits that go into being a student-athlete. To begin, athleticism, but also leadership, experience, success, and sportsmanship are defining aspects. All of these athletes that were nominated carry many if not all of these qualities. The years of sacrifice and work have been taxing at times, but for these athletes, they feel it was all worth it in the end. 
"It feels pretty good. It's kind of another way of showing that all these years of hard work have really paid off," Hill said.